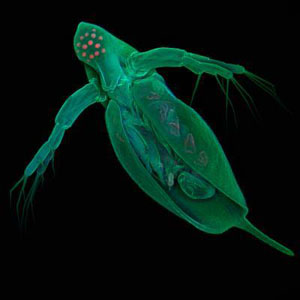 This week's issue of Science reports on the draft genome sequence of the water flea Daphnia pulex. Albeit its relative small genome size (about 200 Mb), this water leaving crustacean encodes for more than 31,000 genes which is almost 1/3 more than humans. Read more about this facinating genome and its qualities as an emerging model organism for Ecogenomics:
More about the Daphnia Genome Consortium at http://daphnia.cgb.indiana.edu
Figure caption: The freshwater zooplankton Daphnia pulex (water flea), a near-microscopic crustacean that lives in ponds and lakes, has a translucent body and a compound eye. (Credit: Jan Michels, Christian-Albrechts-Universitaet zu Kiel)
---
"The Ecoresponsive genome of Daphnia pulex". John Kenneth Colbourne et al., Science. 2011 Feb 4;331(6017):555-561.